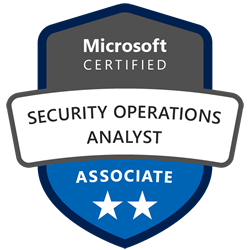 This comprehensive course equips you to investigate and respond to threats affecting your business, leveraging the power of Microsoft Azure Sentinel, Azure Defender, Microsoft 365 Defender, and third-party security solutions.
In just 3 days, you will acquire the knowledge required to collaborate with stakeholders in securing information technology systems for your organization. Additionally, you will learn how to:
Swiftly mitigate active attacks to reduce business risk
Provide recommendations for enhancing threat protection practices
Report breaches of business policies to the relevant parties
Upon completing this course, you will be prepared to take the Exam SC-200: Microsoft Security Operations Analyst, paving the way to your certification. As Sycom Solutions proudly holds the distinction of being a Microsoft Gold Partner for Learning, you will have access to the official exam, Microsoft Official Curriculum (MOCs), and the guidance of Microsoft Certified Trainers (MCTs).
With Sycom Solutions' Lecture | Lab | Review approach, you can earn your certification twice as quickly as traditional training methods.