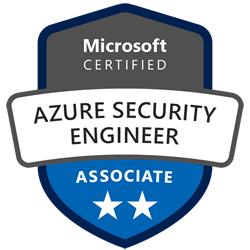 You will master the art of implementing data platforms and safeguarding your enterprise with Azure technology.
Enhance your acumen in deploying security measures, upholding your business's security stance, and pinpointing and rectifying security vulnerabilities. This comprehensive course encompasses security for identity and access, platform fortification, data and applications, and security operations.
You will absorb the endorsed curriculum rapidly under the guidance of accomplished Microsoft Certified Trainers. The distinctive approach by Sycom Solutions ensures that you put into practice all that you learn in an undistracted setting and emerge certified.
Additionally, you will be equipped to:
Execute enterprise governance strategies, encompassing role-based access control, Azure policies, and resource locks.
Establish an Azure AD infrastructure, including users, groups, and multi-factor authentication.
Deploy perimeter security techniques, such as Azure Firewall.
Apply storage security strategies involving shared access signatures, blob retention policies, and Azure Files authentication.
As part of the course, you will prepare for and undertake exam AZ-500 at the Firebrand Training Centre. This is backed by our Certification Guarantee - succeed on your first attempt, or receive further training at no extra cost.
If you aspire to advance your capabilities as an Azure Security Engineer Associate, then this course is the perfect choice.