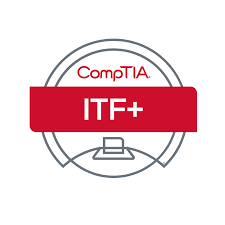 In just 3 days, you'll gain a solid foundation in IT, making it the perfect entry point for starting a career in the IT industry.
Our expert instructors will guide you through the ITF+ curriculum, employing our unique Lecture | Lab | Review learning approach. You'll acquire essential knowledge and skills necessary to comprehend and explain computing fundamentals, IT infrastructure, application and software development, database essentials, and security. This intensive ITF+ course offers hands-on experience, enabling you to:
Install software
Establish basic network connectivity
Identify computer components
Recognize and prevent basic security risks
Explain troubleshooting theory and practice preventative maintenance of devices
As Sycom Solutions partners with CompTIA, you'll have access to the latest Official CompTIA course materials.
CompTIA ITF+ is the sole pre-career certification designed to help you gauge your information technology abilities and determine if a career in IT aligns with your aspirations.
Upon ITF+ certification completion, if you're contemplating progressing in the IT field, CompTIA A+ and Network+ serve as ideal follow-on certifications.