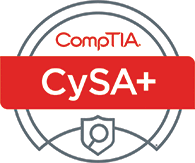 Our seasoned instructors will guide you through our distinctive Lecture | Lab | Review methodology, helping you configure threat detection tools, conduct data analysis, and interpret the results to identify vulnerabilities, threats, and risks to an organisation.
Cybersecurity analytics significantly enhances threat visibility by concentrating on network behaviour, including an organisation's internal network. These threats are more effectively identified through analytics.
During this accelerated CySA+ course, you will focus on the following four cybersecurity domains:
Threat Management
Vulnerability Management
Cyber Incident Response
Security Architecture and Tool Sets
This course is tailored to cybersecurity professionals with a minimum of two to three years of on-the-job experience.
The training involves hands-on practical work in the form of virtual labs and software tools. This approach accelerates your learning and helps you retain your newly acquired knowledge.
The CompTIA Cybersecurity Analyst (CySA+) exam is conducted on-site and includes a performance-based assessment.