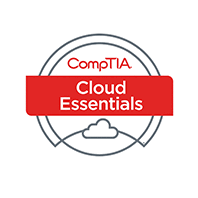 The CompTIA Cloud Essentials course is a vendor-neutral technical certification. It demonstrates your knowledge and comprehension of cloud computing concepts. You will gain insights into transitioning your business to the cloud and understanding cloud computing from both a business and technical perspective.
Topics covered include:
Cloud services from a business perspective
The business value of Cloud computing
Types of Cloud
Steps for successful adoption and implementation
Impact and changes on IT service management
Risks and consequences
Benefits Seven compelling reasons to choose Sycom Solutions for your course:
Two training options available. Choose between residential classroom-based or online courses.
Get certified quickly. With us, you'll complete your training in a shorter time. Our course is all-inclusive.
A single fee covers all course materials, exams**, accommodation*, and meals*. No hidden costs.
Pass on your first attempt or retrain for free. We stand by our guarantee. We are confident that you'll pass your course on your first attempt.
However, if not, return within a year and only pay for accommodation, exams, and incidental expenses. Enhance your learning experience.
A typical day with a traditional training provider typically runs from 9 a.m. to 5 p.m., with a generous lunch break. With Sycom Solutions, you'll enjoy at least 12 hours a day of quality learning time with your instructor.
Accelerate your learning. Your learning style is likely to be unique. We employ a blend of visual, auditory, and tactile teaching methods to deliver the material in a manner that ensures quicker and easier comprehension.
Study with the best. We've consistently earned a spot in Training Industry's "Top 20 IT Training Companies of the Year" since 2010. Along with numerous other accolades, we've trained and certified over 100,000 professionals.